The Nokomis Group
The Nokomis Group is owned and operated by Noleen Glavish and commenced trading in 1990 as a specialist publisher of high quality natural history books, portfolios, prints, gift cards and original artworks by Australian natural history artists.
We have now expanded to include a NEW BOOKS division in addition to those published by the Nokomis Group.   This came about in April 2018 as Andrew and Belinda Isles who own Andrew Isles Natural History Books made a decision to retreat from stocking new books and are concentrating on Antiquarian and Second hand books.  This new division is primarily a mail order business selling natural history books and we ship worldwide.  Our stock holding is substantial and if you click on the New Books tab above, you will see that we are offering a comprehensive range of natural history new books which is predominantly Australian but covers all parts of the globe.
Natural history subjects include birds, mammals, reptiles, amphibians, fish, invertebrates, botany, gardening, ecology, insects, marine, biology, aviculture, entomology and conservation.   We are constantly adding new titles and will be happy to source any titles which may interest you if they are not already listed.
Regular mailings are sent to clients and if you wish to be on the list, please complete the subscribe form.
SUBSCRIBE FOR MAILING
Keep up-to-date by subscribing to our free email book lists in over 20 subject categories.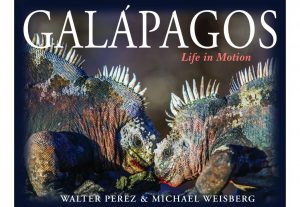 Galápagos: Life in Motion
This beautiful coffee table book will be available in the next couple of weeks.  A great Christmas gift!
The Galápagos Islands are home to an amazing variety of iconic creatures, from Giant Tortoises, Galápagos Sea Lions, Galápagos Penguins, and Ghost Crabs to Darwin's finches, the Blue-footed Booby, and Hummingbird Moths. But how precisely do these animals manage to survive on—and in the waters around—their desert-like volcanic islands, where fresh water is always scarce, food is often hard to come by, and finding a good mate is a challenge because animal populations are so small....
Featured Products and New Releases