The Nokomis Group
The Nokomis Group is owned and operated by Noleen Glavish and commenced trading in 1990 as a specialist publisher of high quality natural history books, portfolios, prints, gift cards and original artworks by Australian natural history artists.
In mid 2018, we expanded to include a NEW BOOKS division in addition to those published by the Nokomis Group.   This came about as Andrew and Belinda Isles who own Andrew Isles Natural History Books made a decision to retreat from stocking new books and are concentrating on Antiquarian and Second hand books.  This new division is primarily a mail order business selling natural history books and we ship worldwide.  Our stock holding is substantial and if you click on the New Books tab above, you will see that we are offering a comprehensive range of natural history new books which is predominantly Australian but covers all parts of the globe.
Natural history subjects include birds, mammals, reptiles, amphibians, fish, invertebrates, botany, gardening, ecology, insects, marine, biology, aviculture, entomology and conservation.   We are constantly adding new titles and will be happy to source any titles which may interest you if they are not already listed.
In October 2019, we have finally commenced our Bargain Books tab above.  You will be able to browse these very well priced books and order them by clicking on the Tab and browsing!  It has been a long time coming!
Regular mailings are sent to clients and if you wish to be on the list, please complete the subscribe form.
SUBSCRIBE FOR MAILING
Keep up-to-date by subscribing to our free email book lists in over 20 subject categories.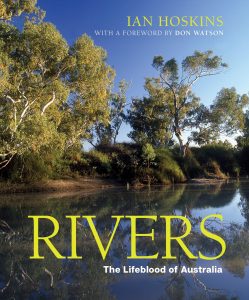 Rivers: The Lifeblood of Australia
Hoskins, Ian (Author) Don Watson (Foreword by)
$50.00
Rivers have long run in the blood of Australians.  Givers of life and subjects of anguish, Australian rivers have shaped the nation from the moment the first Australians arrived tens of thousands of years ago. Offering the vital ingredient for life, they are also guardians of culture, a means of transportation, sites for play and leisure, and sources of power—deeply entrenched in almost every aspect of human life and an irreplaceable part of the global ecosystem.
Australia's vast inland seas of some 50 million years ago have disappeared, leaving a continent that is mostly desert. Of the waters and wetlands that remain, most of which are connected to rivers, 65 are listed as Ramsar Wetlands of International Importance. They are also of incredible — sometimes painful — local importance, as reminders of the dispossession suffered by those first peoples and their descendants and evidence of the devastation wrought by drought and dying waterways.
Featured Products and New Releases